---
Pilot Program
    In November of 2015, facilitators from the Health and Wellness Initiative at the University of Kentucky's Human Development Institute launched the Health Partners pilot program. Two pilot groups completed 12 hours of programming over two weeks. Using the Healthy Lifestyles curriculum, trainers stressed the importance of holistic health and self-determination. Holistic health means that participants learned about how to make healthy choices in all areas of their life including physically, socially, mentally, and spiritually. After learning about these areas, each participant chose three health goals to work towards. With the help of facilitators and their health partner, goals were broken down into smaller steps and needed resources were identified. All individuals had the chance to share their goals with the group to receive extra support and encouragement. Be sure to check out our resources page to see what is helping some of our participants!
 Through different activities, participants were able to decide what values were important to them. Some of these activities included completing a personality test, planning meals, and learning new ways to exercise with their partners. By doing these activities and thinking about current habits they were able to decide what areas of their lives they wanted to improve on. Goals ranged from increasing daily exercise and eating healthier to being more mindful and spending more time doing enjoyable activities. Participants will attend monthly follow up meetings once a month for six months following the program. Here, they will track the progress of their goals, make updates, and receive encouragement from the group.
To read about the pilot for our youth program, Building Healthy Lifestyles, click here!
Health Partners Research- Brief
To read the full research brief featuring the Health Partners pilot project, click on the link below: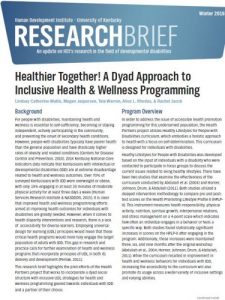 This project is funded by the Commonwealth Council on Developmental Disabilities