---
Individuals with disabilities experience significant inequities in health and wellness outcomes. A variety of HDI efforts seek to address this while promoting the capacity of local communities to provide more inclusive health and wellness opportunities
WHAT
The Health Partners program was a holistic health and wellness workshop in which
individuals worked together with a partner to learn about physical, social, emotional, and
spiritual health through meaningful activities. Based on what was important to the
participant, they created their own personal health goals. Over several sessions, they
received the tools and information they needed to be successful in reaching their goals.
They received support and additional resources during follow up meetings. Program
content was adapted from Healthy Lifestyles for People with Disabilities curriculum
authored by professionals at the Oregon Health and Science University.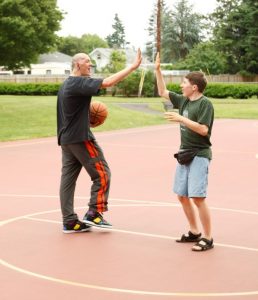 WHO
We reached out to individuals 16 and up with a developmental disability and a health partner of their choice to complete the program together. The partner could have been a friend, family member, or support person. Program content was adapted for Universal Design for Learning so the curriculum was appropriate for all participants. This was offered to groups ages 16 and up or in an adapted format from ages 8-12.
WHERE
Health Partners was offered across Central Kentucky at various community locations based on interest. The target area was any region that fell within 90 miles of Lexington. We also provided programming in schools for youth in grades 3-5 as well as high schools.
WHEN
Widespread programming was in January 2016. Participants must have been willing to complete 12 hours of initial programming broken up over several days and then attend monthly follow up meetings once a month for six months after the program.
WHY
Benefits of participating in Health Partners include:
Received information to help make better decisions in all areas of health
Examined habits and choose areas of their health that needed improvements
Set their own health goals and identified what resources and supports they needed to succeed
Worked with their health partner to support and encourage each other
Worked with program trainers who help them stay on track and looked at their progress during follow up sessions
Had fun and met new people!
Meet Your Trainer
---
Megan Jaspersen is the lead trainer for the Health Partners program. She is employed by the University of Kentucky's Human …
Morgan Turner is a Health Partner Co-Facilitator with the University of Kentucky's Human Development Institute. Morgan is a graduate of …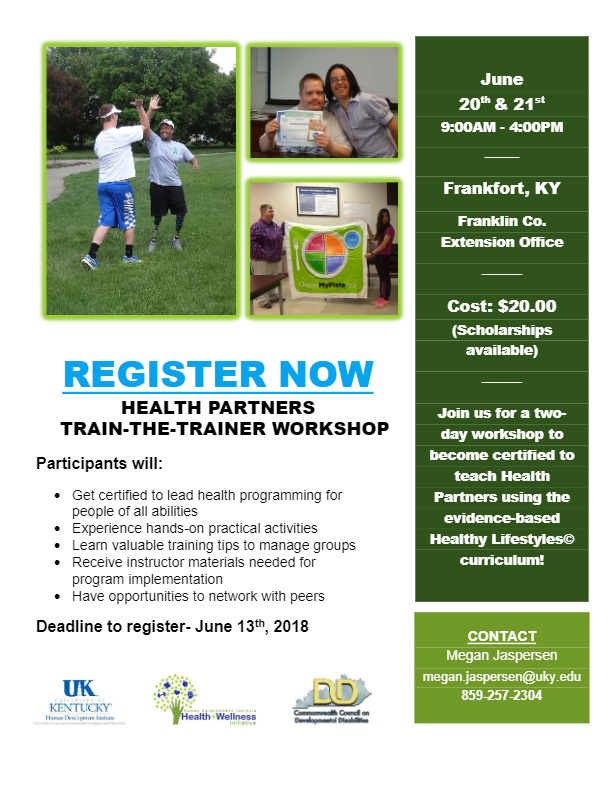 Monica Hayes is employed by the University of Kentucky as a part time Co-Facilitator of Health Partners in the Health …
Megan McCormickis a Co-facilitator for Health Partners at HDI as well as a substitute Instructional Assistant in elementary schools in …
Brandy Martin is a Co-facilitator for the Health Partners program and attends Cypress Community Services on weekdays. Brandy graduated from …
This project is funded by the Commonwealth Council on Developmental Disabilities.