The Human Development Institute's Kentucky Inclusive Health Collaborative collaborated with the University of Kentucky's Nutrition Education Program (NEP), Kentucky's Division of Developmental and Intellectual Disabilities (DDID), and the National Center on Health, Physical Activity, and Disability (NCHPAD) in 2020 to establish an Inclusive Health Coalition (IHC).
The coalition consisted of diverse community partners to assess the needs of the community, identify barriers to inclusion, and work collaboratively to create inclusion solutions to address these barriers. The information collected from three assessments—instructor readiness, organizational readiness, and community needs – informed the IHC of the barriers Kentuckians face in accessing health resources, services, and programs. The resulting inclusion solutions are outlined below.
Our initial efforts focused on the Healthy Choices for Everybody (HCEB) curriculum developed by the UK Cooperative Extension Service Nutrition Education Program. This evidence-based curriculum is implemented statewide by NEP assistants with Kentucky's SNAP-Ed and Expanded Food and Nutrition Education Program (EFNEP).
Inclusion Solutions
Create an internal online hub for NEP assistants and agents with resources and information on best practices for supporting and including people with disabilities in health programming.
Create inclusive and accessible supplemental materials to allow a broader audience to access the Healthy Choices for Every Body (HCEB) curriculum:

Include picture recipes for each cooking lesson
Incorporate modified kitchen tools for individuals with physical and/or dexterity limitations
Create a supplemental Universally Designed tool to accompany NEP's existing evaluation questions

Train NEP assistants and agents on disability inclusion and awareness to equip them with the skills and efficacy to effectively serve all participants.
Create a marketing campaign to bridge the gap in knowledge and awareness between NEP opportunities and the disability community.
Resource Implications
Graphic recipes will be available to NEP assistants. Non-NEP professionals and community members can access the graphic recipes at planeatmove.com/recipes.
Modified kitchen tools identified by the IHC to address inclusion barriers are available statewide. Each of the seven Kentucky Extension Program regions were provided a kit of adaptive kitchen equipment that NEP assistants can check out and use to support the meaningful participation of all individuals in inclusive NEP programming. In addition to the kits, NEP received three one-handed cutting boards. The kits were such a big hit that in 2021 NEP worked to provide 120 kits so that each county in Kentucky had access to the modified tools for programming. To find additional adaptive kitchen tools and purchase your own, visit our adaptive kitchen equipment resource.
Each kit includes:
Rocker Knife
Zyliss Lettuce Knife
Easi-Grip Carving Knife
Palm Peeler
Food Chopper
Multi-Use Slicer
Angled Measuring Cup
Batter Bowl
Collapsible Measuring Set
Mixing Bowl
One Touch Can Opener
Jar Opener
Finger Guard for Cutting
Oven Rack Tool
Bowl Cozy
A kit cost approximately $175.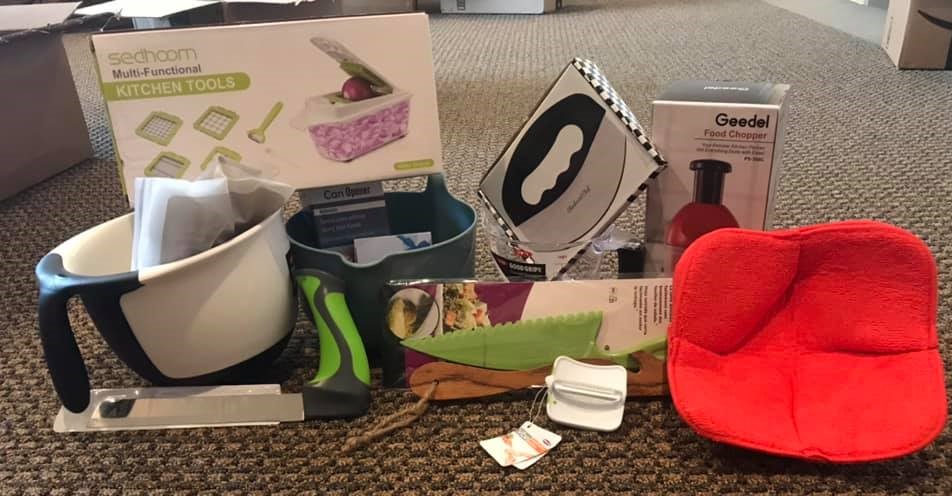 Ongoing Efforts sustained from this partnership have accomplished additional inclusion solutions through training NEP assistants and agents and working to create a universally designed supplemental evaluation tool for HCEB participants to have easier access to share their experiences and voices on the program surveys.
---