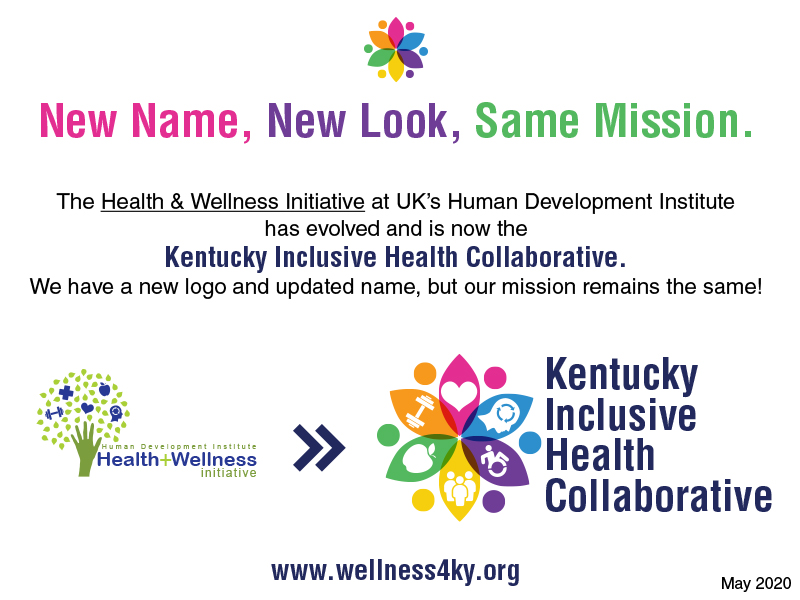 WE HAVE EVOLVED
As of May 2020, the Human Development Institute Health & Wellness Initiative evolved into the Kentucky Inclusive Health Collaborative at the Human Development Institute (HDI) in response to the needs we have identified through community health efforts.  This update increases our visibility as we work to enhance our efforts and positions us well as we look to the future of growing in our community efforts but also as we work to support the vision of HDI and how health functions as a cornerstone as a priority.
The evolved name broken down:
Kentucky – captures our statewide reach while linking us to Kentucky's University Center for Excellence in Disabilities (HDI)
Inclusive – reflects core values around Universal Design and inclusion
Health – health and wellness is the cornerstone of all our efforts
Collaborative – our work focuses on community partnerships and capacity building and promotes the way we work together with our partners and under the mission of HDI to promote broad inclusion and positive quality of life.
Brighter and fresher colors were important to the updated logo. As Project CHEER was our most recognizable project, we used the same colors. There are size and detail variations of the logo. The largest version includes icons that represent a portion of our community health efforts: physical/mental health, disability, nutrition, physical activity.
In companionship with this evolution, we have worked hard on updating the website for accessibility and responsive design. As we continue this website spring-clean, keep checking back as we add new amazing resources, and refresh existing ones!"
---
---
The Kentucky Inclusive Health Collaborative (KIHC) is part of the Human Development Institute (HDI) at the University of Kentucky. HDI is Kentucky's University Center for Excellence in Developmental Disabilities Education, Research, and Service. The institute prioritizes supporting inclusive, lifelong opportunities and services for individuals with disabilities, their families, and the community in the following areas: Early Childhood & Education, Leadership & Self Advocacy, Employment, Health, Universal Design & Assistive Technology, and Research & Evaluation.
The Kentucky Inclusive Health Collaborative provides information and resources incorporating Universal Design principles on how to stay healthy and well. The mission of the collaborative is to ignite positive change to address the significant health disparities experienced by individuals with disabilities and promote successful inclusion and equal health for all. The collaborative provides education and training on how to lead a healthy lifestyle to individuals with disabilities and their support networks. KIHC also supports health professionals to create programs, services, and resources that are accessible and inclusive of all people.