Overview
Staying healthy is important for everyone. Health status can impact independence, participation in the good things in life, and the onset of secondary health conditions. Yet, people with disabilities typically have poorer health than the general population and drastically higher rates of obesity and related conditions (CDC, 2010). Health Partners embodies a holistic approach to health with a focus on self-determination and a research-supported dyadic approach, where two partners work together to reach individual health goals. The program is designed to give participants the tools they need to assess their current lifestyles and identify goals and resources to make successful positive health changes.
Initial Facilitator Training
Starting in June of 2015, the Health and Wellness Initiative team at the Human Development Institute (HDI) at the University of Kentucky participated in facilitator training of the Healthy Lifestyles for People with Disabilities curriculum. The original curriculum was taught by experts from the Oregon Health and Science University. To view the original curriculum, click here. Along with 12 other provider agencies in the state of Kentucky, HDI team members were trained on how to provide this holistic health workshop for individuals with disabilities.
Curriculum Updates
Following the training, the original curriculum was sent to an expert panel for the purpose of adapting it to incorporate the dyad approach and Universal Design for Learning (UDL).
Dyad approach
The dyad approach involves two partners working together. Initially curriculum was intended only for individuals with disabilities and did not address the need for caregiver support. Research indicates that lifestyle changes happen more readily and last longer if individuals have a support person to encourage them in their changes. (Reed, 2013) The benefits of a dyadic approach to health promotion programming go beyond increased health outcomes for all participants, with and without developmental disabilities. When making any change, it is helpful to have a partner available for encouragement, motivation, and accountability reasons. Communication between partners strengthens the success of healthy behavior change. Materials were updated to incorporate this model into the curriculum. For additional information on what was incorporated into the curriculum and strategies on program adaptation for the dyadic model, click here.
Universal Design for Learning (UDL)
In order to adapt the program to meet the needs of all individuals, the principles of UDL were applied. This gives participants the opportunity to receive information and respond through multiple means of expression. The text, worksheets, and visual information provided to participants was edited to include additional pictures and visuals to appeal to individuals with various learning styles and multiple methods of communication. Supplemental activities were included to engage all of the senses and further encourage participation.
To view information on the original curriculum content and read about the evidence based program design from Oregon Health & Science University, click here.
Session 1: What is a Healthy Lifestyle?
Participants will learn about the Healthy Lifestyles Wheel which explains the different areas of health and includes physical, emotional, social, and health through meaningful activities sections. They will apply what they learn to their own lives.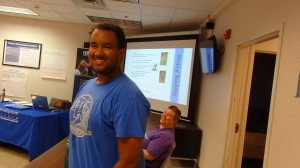 Session 3: Knowing What You Need
Here, participants will explore each area of the Healthy Lifestyles Wheel in depth and learn about staying active, healthy eating, social health, emotional health, and preventing illness.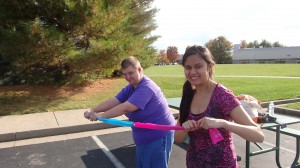 Session 4: Making it Happen
During this final session, goals are developed after careful thought and consideration. Supports are identified, and goals are broken down into small, manageable steps. Participants then make a collage that reflects their health goals to serve as a visual reminder to make healthy choices.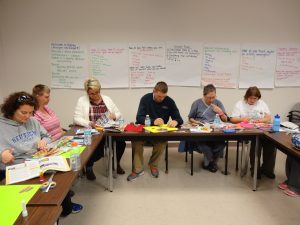 References
CDC. (2010). BRFSS 2010 survey data and documentation. Retrieved from http://www.cdc.gov/brfss/annual_data/annual_2010.htm.
Reed, R. G., Butler, E. A., & Kenny, D. A. (2013). Dyadic models for the study of health. Social & Personality Psychology Compass, 7(4).
This project is funded by the Commonwealth Council on Developmental Disabilities.