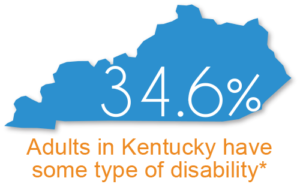 Project CHEER (Community Health Education and Exercise Resources) is Kentucky's State Disability and Health program funded by the Centers for Disease Control. This project addresses the health disparities experienced by individuals with cognitive and mobility disabilities through education, empowerment, and accessibility. To break down access barriers in health programs and services, Project CHEER develops collaborations at local, state, and national levels focused on creating accessible health resources and programming so by working together and with the technical support of Project CHEER individuals with disabilities can easily access health information and programs. Several state and national partners include the American Heart Association, University of Kentucky's Nutrition Education Program, Markey Cancer Center, Kentucky Department of Public Health, and more!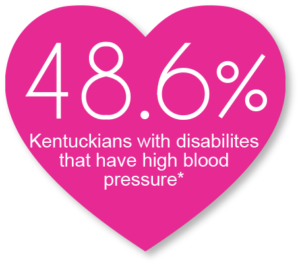 Grassroots efforts for this Project CHEER include the hosting of community conversations in local counties across the state. These events engage community members to identify local strengths and barriers in promoting healthy inclusion for individuals with disabilities. The community conversation specifically targets individuals from settings across disability, politics, health promotion and healthcare, education, and the broad community. All stakeholders are brought together with the goal to connect and build bridges within the local community to promote the inclusion of all individuals in healthy opportunities.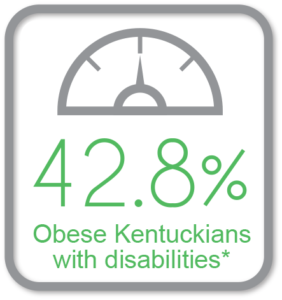 Individuals with disabilities are 3 times more likely to experience heart disease, stroke, diabetes, and cancer. Kentucky has one of the highest rates of disability in the nation. Trainings offered by Project CHEER provide an overview of the health disparities experienced by people with disabilities, including specific to Kentuckians with disabilities, along with providing insight on strategies for inclusive health through education, empowerment, and cultural competency. Trainees learn why it is important to include universal design in health promotion programming and gain insight on how to include strategies that will support programs in reaching the widest possible range of participants. Training presentations provide examples of incorporating universal design in health messaging such as print materials and program activities.
Check out our resource library and ask us about training opportunities.
---
---
* CDC 2017
This publication was supported by the Grant or Cooperative Agreement Number DD000010, funded by the Centers for Disease Control and Prevention. Its contents are solely the responsibility of the authors and do not necessarily represent the official views of the Centers for Disease Control and Prevention or the Department of Health and Human Services.