Recreation refreshes, revitalizes and improves a person's quality of life.  It is also many different things to different people.  Check out this Kentucky Recreation Resource Guide for resources around our state that include things like state parks,  adaptive recreation programming, sports/leisure clubs and teams.  Don't limit your ideas of recreation by what you find here, the possibilities are endless!
If you have any questions about getting started with your recreation plans or even suggested additions to this guide, please contact wellness4ky@uky.edu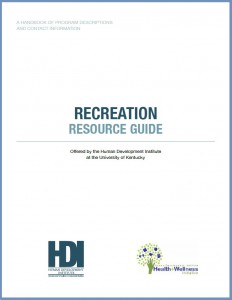 While what you want to do for recreation may be very different than someone else's idea of fun, you can be creative when tapping into recreation resources in your community. Here's an example:
Consider some recreation activity you may have an interest in. Suppose you are interested in gardening – but have never tried it. Great! Let's take a look at how you can learn about it, do it, and how to get connected to your community in ways you may have never imagined. We are using gardening here as an example, but remember it could have been anything from bike racing to computer programming. So you want to try gardening. Let's pretend you know very little about gardening. The first thing would be to ask your friends, family and people you know for some suggestions. To get more information about gardening you begin to use your local library as a real resource – checking out books about gardening. Or you could do an internet search for gardening resources and find helpful tips like what wellness4ky has available on our Ky Grow pages found here.  While you are at the library, you notice the community events bulletin board and see that there are many events and organizations doing things in your community that you would like to know more about. For that matter, look at your newspaper's community events calendar.
Recreation does not need to be complicated.  Step out your own front door and be a part of and contribute to your own community!