Establishing good health habits at an early age is crucial. Building Healthy Lifestyles is the newest program of engagement to come out of the Health & Wellness Initiate at the Human Development Institute which captures students in third through fifth grade to develop positive habits for physical, emotional, and social health. This focus sets a strong foundation for independence, self-determination, and meaningful activity, all of which are predictors for successful transition into adulthood. The healthy lifestyles curriculum was adapted to be appropriate for youth ages 8-12 to be delivered in an inclusive environment in which peers with and without disabilities participate. Interactive activities laced with proven strategies get students thinking about their health and ways they can improve across all areas.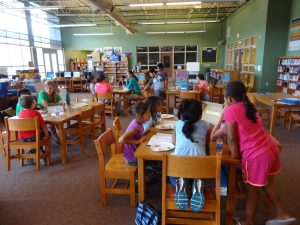 Building Healthy Lifestyles was piloted at Mary Todd Elementary in Lexington, Kentucky during July of 2016. With the help of Build Inclusion Inc. and Easter Seals Cardinal Hill, 16 students participated in the holistic health program which uses scenario based learning, physical activity, and visual representations to translate classroom learning into real-life application. Additional partnerships included Allegro Dance, and the University of Kentucky Nutrition Department.
Megan Jaspersen is the primary facilitator of Building Healthy Lifestyles. "Partnerships such as these are great. It not only provides program sustainability, but it is also beneficial for all parties involved. UK students are given a great service-learning opportunity to interact with a population they may not have exposure to otherwise, and community partnerships strengthen what we are doing," Jaspersen said. "To see youth get excited about being healthy is really fun."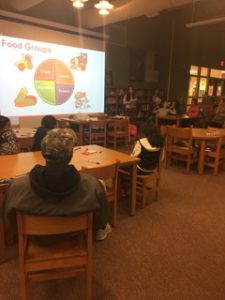 Three goals were created by each student to address physical, social, and emotional health, and follow up meetings occurred as part of the curriculum to track progress and provide additional resources. For our final meeting at Mary Todd Elementary this November we partnered with UK Nutrition students Catherine Broton and Tina Mousa, and we invited students and parents for an evening of nutrition education and fun.  The two areas of focus for the evening included how to make healthy snacking fun and how to eat healthy on a budget.
Students and parents were reminded of the Choose MyPlate model for healthy eating prior to completing a "build your own meal" activity. Catherine and Tina lead the group in discussion of ways to make eating healthy fun such as turning fruits and vegetable snacks into animal shapes. This was followed by nutrition games such as Crack the Secret Code and MyPlate Crosswords. These resources, along with many other excellent nutrition games and teaching tools from the USDA Food and Nutrition Service can be found at http://www.fns.usda.gov/tn/resource-library.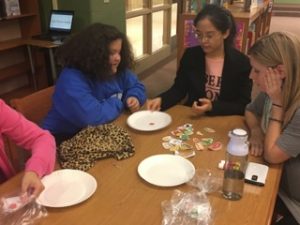 Annette Jett, Founder and Executive Director of Build Inclusion Inc., provided food and a lesson to the group on how to eat healthy on a budget.  Participants and their families enjoyed baked potatoes, a salad bar, and a build-your-own soup station. All ingredients for the meal, including various vegetables, shredded chicken, broth, and potatoes, are relatively affordable and reheat well when saved as left-overs. She suggested that allowing youth to help make dinner gives them choices and empowers them to try new things.
So whether you are concerned about your food budget or not, get in the kitchen with family or friends, get creative, and make healthy eating fun!